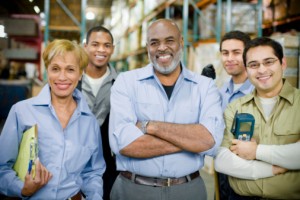 Many small businesses may not realize the impact order fulfillment has on a company's bottom line. Adjusting the price of products or implementing clever marketing strategies are usually top of mind when thinking of ways to improve revenue. But a sound order fulfillment process can be equally as rewarding and produce a return on investment worth the time it takes to develop the process.
The proliferation of e-commerce in the operation of many businesses has made the task of fulfillment that much more challenging. Retailers are making offers—like free shipping—that are difficult to manage, yet they do this as a way to compete. But in reality, creating a more efficient system all around—one that incorporates technology and more streamlined functions—is a more effective approach than other tactics.
Modern Consumers
Consumers today aren't just walking into your store, choosing an item, and walking out; however, they do expect nearly the same level of convenience when using your e-commerce platform. Though you may think this is unreasonable, truth is there are enough options for consumers to move on to the next business if you aren't meeting their expectations.
Delivery time is a key factor of customer satisfaction. Consumers want their package delivered within 24 to 48 hours of ordering. And if some disparity occurs or they need to return the item, they expect this to be done at no cost.
Automation
Automation is the quickest and most accurate way to ensure that your business efficiently processes an order from the moment the consumer confirms the item(s). Too much is at stake for you to rely primarily on human judgment, and with the amount of software currently available, you shouldn't have to.
Your fulfillment process must use this technology in as many areas as possible. Create a system of prompts that streamlines the process and connects the different departments, industries, and people involved in successfully shipping the product. Communication needs to be fast and traceable to a central source so that confusion is minimized.
Organization and Space
In order for any automated procedures to be maximized, your warehouse must be organized from the very beginning. That means you need to have a detailed understanding of your products in stock versus the number and type of products your customers are ordering.
Overstocking can have an equally negative impact on revenue and customer service as understocking. In general, knowing how to pick, pack, and ship individual items and smaller-volume orders is how e-commerce works. You need to adjust the way you stock inventory in your warehouse to conform to this new way of delivering products. So, you may not need to stock a half-acre warehouse, but you may need to more efficiently stock a smaller one.
Saving with Packaging
Customer expectations have grown to the point where even product packaging is looked at as part of a company's branding; however, containers can be expensive. You need to work with a packaging company to get around these costs. This may consist of ordering more in bulk, or getting creative with the material you use for packaging. The point is not to overlook this area as a potential means of savings. When you start sending out orders in volume, packaging costs can begin adding up.
APS Fulfillment, Inc. has come across all of these challenges. So, if your company is looking for the most effective order fulfillment system that fits your customers' needs and your budget, contact us today at [email protected].