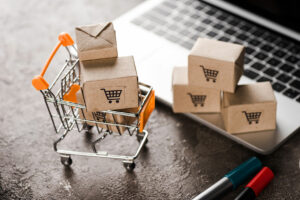 One huge benefit of our deeply interconnected (and online) world is that there is a wealth of data just waiting to be leveraged to help your e-commerce business succeed. In order to maximize the potential of your e-commerce order fulfillment business, you need to be aware of these data points, so you can use this knowledge to make profit-maximizing decisions.
All that said, let's go through seven shocking statistics related to e-commerce and discuss what they mean for your business.

Don't Delay:
"54% of Online Consumers Say That Delivery Times Define Who They Shop With"
While perhaps not unsurprising, it is shocking to learn the timelines that consumers demand: 54% demand one-hour delivery time in metropolitan areas. That means that you need to design your business to meet delivery expectations and, more importantly, if you're looking to compete in cities, you need to ensure rapid delivery times.
Provide Full Information:
"24% of Online Shoppers Will Abandon Their Order if No Delivery Date Is Provided"
Delivery dates are of critical importance in this business—not just in terms of meeting them, but just their mere presence is enough to sway a large portion of consumers. Having said that, always list an accurate delivery date. There is no faster way to lose a consumer than failing to meet delivery expectations.
Meet Those Delivery Dates:
"69% of Online Shoppers Are Less Likely to Shop with a Business That Delivers a Product Two Days Late"
Depending on the product, customers may be able to stomach a day's delay (though best not to chance it). But anything beyond that, and you're likely to see a significant drop-off in terms of repeat customers.
Be Upfront with Shipping Costs:
"A Quarter of Shoppers Will Abandon Orders Due to Unexpected Shipping Costs Being Added Just Before Checkout"
People don't like feeling like they were being misled. You are better off putting shipping costs upfront, so customers don't face any surprises near the end of their order.
Throw in Freebies When Possible:
"Nearly Three-Quarters of Shoppers Claim That Free Shipping Is among the Most Important Factors at Checkout"
If you can provide free shipping and that doesn't hurt your margins too much, then you're almost always better off including them when possible. It may eat into profit margin on that specific sale, but you may end up endearing the customer to your business and counting them as a repeat customer.
Focus on Growth:
" B2C Sales Are Projected to Hit Over $6.3 Trillion by 2024, Up from $4.3 in 2020″
What this statistic tells us is that, despite the hyper-focus on the e-commerce market and its explosive growth over the past few years, we're still seeing tons of room for growth. Being growth-oriented, in other words, is the best way to take advantage of these gains. Don't rest on your laurels!
Understand E-Commerce's Ubiquity:
"About a Quarter of the Globe Purchased Goods or Services Online in 2019″
While the growth numbers are exciting, it's worth noting that e-commerce is already global. With literally billions of people making purchases online these days (and often more than one) there's no shortage of customers out there that want e-commerce order fulfillment that they can rely on. If that's you, you can be sure to see impressive gains (and profit) moving forward.
 Work with APS Fulfillment, Inc. for Your E-Commerce Fulfillment
Now that we understand the numbers, the next step is taking advantage of this information using APS Fulfillment Inc.'s services.
With us you'll have access to state-of-the-art warehouse management software (WMS). We make inventory management and goods tracking easy. We'll also support your business and automate the warehousing, prepping, shipping, picking, and packing of your orders!
There are a wide range of benefits to working with a third-party logistics company that uses the best-quality software systems to manage your warehouses. With APS Fulfillment's real-time processing, we can confirm your order, have it picked and packed, and shipped with one of our trusted partners, in just 24 hours.
Get in touch with us and one of our consultants will tailor a fulfillment plan designed to grow your business. Book a consultation by calling (954) 582-7450 or email [email protected].