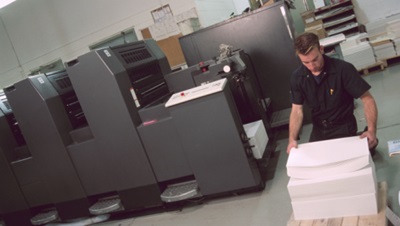 Magic Ink
 The publishing world appears to be getting a little more technical—or rather, technological. There seems to be a shift from the old printing services we've grown accustomed to since days gone by to electronic print media. Now, we've got pop-up ads online and e-books with complete novels that are easier to carry in your back pocket than a paperback. It seems like the microprocessors have conquered another landscape, and the printing business is its new terrain.
Well, not quite.
The publishing world might be getting swallowed up by technology, but marketing and product fulfillment may not necessarily be also. You can't do e-flyers yet and some catalogues just look better in paper form, all bound in a handsome, glossy book. Some say print is dead, but most product fulfillment pros would agree is that printing is still around and working hard.
The magic of ink is strong, and in product fulfillment, you need to grapple ink's catalyzing mechanism: the printing process. Without it, your product fulfillment business would diminish, or perhaps even fail outright. Printing is still relevant in the world, and product fulfillment pros that understand it can not only make their business more efficient, but create great success for themselves, too.
Speaking the Language
 Understanding professional printing services in product fulfillment is like a checklist of your knowledge base. Right from the get-go, you need to understand that most printing companies today are digital and operate using templates for styles and for business purposes. The lead-and-ink printing days are gone, replaced by print-on-demand companies that can produce a large amount of print material in a flash by using computers to easily design, format, and then run off the print materials you need.
With this in mind, you ought to familiarize yourself with what templates are relevant to product fulfillment. This definitely involves a lot of creative direct marketing materials: this includes package mailings, singular flyers, catalogue templates, and business cards. It probably wouldn't hurt to hike down to the computer or office supply store or scour the Internet a bit to see what's available and what programs are most prominent.
With professional printing services, there's also the matter of the content itself. Knowing about the copy, graphics, and/or layout being used is useful, and making sense of pricing is necessary for budgetary reasons. Print-on-demand companies have not only made print material easy to obtain in large quantities, but they offer great prices for bulkier orders. Another thing you can do to benefit yourself is understand the correlation between post and printing. Some of the materials you need for product fulfillment require paid postage and need to follow certain mailing guidelines. If you can master this, you can get your print material to its destination with less hassle. 
The Other Side of the Press
 You might just be the printing services guru mentioned above, understanding the printing needs of product fulfillment and knowing how to pull them off yourself. If so, you've got a very valuable skill to offer others and ought to consider incorporating into your business practices.
Offering on-demand or lettershop services, complete with accessible digital formats and templates, can help you deliver the best kind of printing services possible. You don't need much, just the right computer hardware and access to a printing press, but if you're skilled, clients will be happy to compensate you for the ink that you provide.
Need solutions to your product fulfillment problems? APS Fulfillment, Inc has the knowledge and services to make your direct mail and product fulfillment ventures more successful. Contact APS Fulfillment, Inc by e-mail at [email protected], visit their web site at www.apsfulfillment.com, or phone at (954) 582-7450.