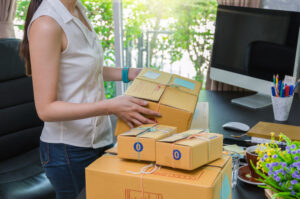 Many businesses that ship products often treat their packaging as an afterthought. They already bought the product, after all. The sale's complete—no need to put any more frills on.
But that's overlooking just how impactful custom packaging boxes for small businesses can be on encouraging repeat buyers and customer loyalty.
Consider that 72% of Americans say that the design of a product's packaging often influences their purchasing habits, while 67% say that the materials also impact their purchases. In other words, custom packaging for small business can be a simple yet effective way to help boost sales. You can also build your brand more effectively with custom packaging boxes for your small business.
Let's now take a deeper look at all the ways custom packaging for your small business can help increase sales.
Top 3 Benefits of Custom Packaging Boxes for Small Businesses
1. Memorable Experience and Loyalty
When your customer receives custom packaging boxes with your logo on it, they can feel that extra effort.
Rather than some unmarked cardboard just like every other e-commerce provider, your business will stand out and be memorable. Instead of seeing your business as just a faceless, nameless provider of some type of goods, the customer makes the connection between your brand and the product they're holding in their hands. As you'd imagine, this is great for building loyalty and encouraging repeat buys.
2. Brand Awareness
Building on top of brand loyalty, enhancing brand awareness is another one of the advantages of custom packaging.
Not only are your current customers being reminded of your brand, but any friend or passerby who sees the custom packaging of your small business will also take away an impression. It works as secondary advertising in a way, as your clients' friends and family will see custom packaging boxes with your logo, hear about your excellent service, and likely be tempted to make a purchase themselves. This also holds true when you're trying to promote your business on social media or when benefiting from organic social media traffic.
3. Increased Value
As a customer, it just feels better to get a custom box. It looks professional, makes the product like it's of greater quality, and overall makes people feel like they're getting increased bang for their buck. And that goes a long way toward encouraging repeat purchases.
What to Consider for Small Business Custom Packaging
You don't want just cheap custom packaging for your small business—you also want quality and simplicity.
Let's take a look at some often-overlooked things when it comes to custom packaging boxes for small businesses.
Cost-Effective Packaging
There are many, many options out there when it comes to custom boxes. From different packaging materials to colors to sizes, there are many different configurations.
What you need to keep in mind is that these options can at times grow expensive (especially when working with an inefficient custom packaging provider).
That said, it's best to make a decision of what you want before just adding features left and right. This can go a long way toward saving time and money while still getting highly effective custom packaging.
Fragility of the Product
While custom packaging can be a great boon to your business, it is, of course, secondary to the actual product. It doesn't matter how great your boxes look if the product inside is damaged.
To that end, you always want to match boxes with products based on safety of delivery and ease of use, with aesthetic concerns coming next. You'll almost always be able to achieve both striking custom packaging and safe packaging, but that doesn't mean you can treat the protective qualities of the packaging material as an afterthought.
APS Fulfillment's Elite Custom Packaging Service
Ready for custom packaging to give your business an edge on the competition? Then call APS Fulfillment, Inc.
We can help you design custom packaging that will ensure your customers end every purchase with a lasting and positive impression.
Better yet, we offer e-commerce fulfillment out of Miami that includes state-of-the-art warehouse management software (WMS). We make inventory management and goods tracking easy. We'll also support your business and automate the warehousing, prepping, shipping, picking, and packing of your orders!
Get in touch with us and one of our consultants will tailor a fulfillment plan designed to grow your business. Book a consultation by calling (954) 582-7450 or email [email protected].