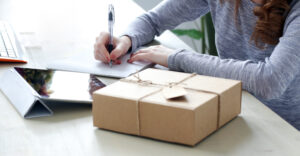 While you may think of packaging as a secondary concern, it can actually have a pretty significant impact on sales. In fact, 72% of Americans say that the design of a product's packaging often influences their purchasing habits, while 67% say that the materials also impact their purchases. In other words, custom product packaging can be a simple yet effective way to help boost sales.
That in mind, let's take a look at how custom packaging for e-commerce fulfilment can be a boon to your business.

Benefits of Custom Packaging for Your Business
Creates a Lasting First Impression
There are a lot of packages out there vying for attention. Yours need to stand out among the pack. And with custom product packaging, you'll leave a lasting impression on the consumer.
Makes the Customer Feel Unique
With so many fulfillment options out there nowadays, consumers want to feel like they're being personally catered to and not treated like just another number. This helps them feel connected to the brand, which is critical to fostering repeat customers and developing recurring revenue streams.
Gains Long-Term Brand Loyalty
Speaking of repeat customers, by making the customer feel unique and that all their needs have been met will in turn help engender loyalty.
Gets You More Love on Social Media
Word-of-mouth and positive online reviews found on social media are essential to generating more leads and sales. Did you know that 88% of people trust online reviews written by other consumers? Add in the impact of influencers and having custom packaging can help create that buzz you need to bolster sales numbers.
What Is Included in Custom Product Packaging?
Custom packaging can include both interior and exterior printed packaging.
Exterior custom packaging is efficient, cost effective, and helps spruce up the exterior of your packages.
Another great way to customize your packaging is by having personalized filler, tissue paper, and insert cards within the package itself to really drive home brand recognition.
Boost your Brand with APS's Custom Packaging and E-Commerce Fulfillment
If you're looking for custom packaging for e-commerce fulfillment that can help your business stick out among competitors, then call APS Fulfillment Inc.
We can help you design custom product packaging that will ensure your customers leave every purchase with a lasting and positive impression.
Better yet, we offer e-commerce fulfillment out of Miami that includes state-of-the-art warehouse management software (WMS) and we make inventory management and goods tracking easy. We'll also support your business and automate the warehousing, prepping, shipping, picking, and packing of your orders!
There are a wide range of benefits to working with a third-party logistics company that uses the best-quality software systems to manage your warehouses. With APS Fulfillment's real-time processing, we can confirm your order, have it picked and packed, and shipped with one of our trusted partners, in just 24 hours.
Get in touch with us and one of our consultants will tailor a fulfillment plan designed to grow your business. Book a consultation by calling (954) 582-7450 or email [email protected].