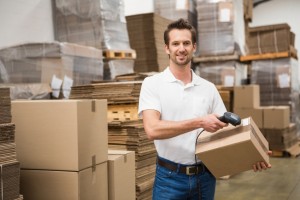 Incorporating an efficient warehouse management system is an essential part of any company's operations. Successfully managing packages at every point of the journey takes a cohesive system that involves many parts.
But before any kind of warehouse management system can be implemented, a company must be aware of its needs. There is no blanket system that can fit all businesses. Each company has its own challenges and opportunities, and an effective management system will identify both.
Choosing the right system is important, and there are ways to ensure you decide on a system that will enhance your business operations.
Function and Simplicity
Like we mentioned, the most important aspect of any warehouse management system is how it will function for your business. Will your operations be made more efficient and processes more streamlined? These are among the first set of questions you need to ask. It's also important that your system eases the manual workload. Tasks should be made less difficult for employees and automation needs to factor into play whenever possible.
Door-to-Door Management
Sometimes it is a surprise to small businesses just how dynamic fulfillment services can be. From the various means of placing an order, to inventory, to then actually shipping the product to a customer, ensuring this process runs smoothly takes continuous monitoring. Your system must be able to manage this entire process from end to end, including foreseeing potential issues and reacting quickly to problems that do arise.
Flexible Solutions
Flexibility is actually more important than people realize, particularly for small businesses. The management system put in place must be able to grow with the company. If the system is not scalable, you will be forced to adapt a new system as opposed to updating that system every time your business expands.
Customers Come First
The customer service portion of an effective warehouse management system can't be overlooked. They are the ones receiving the product and if the system in place is doing its job, customers should have no reason to complain. And if they do, the system should have a strategy for that as well.
Returns on Investment
Weighing all these factors into your decision is crucial, but always keep in mind that at the end of the day, your business needs to be profitable. If your warehouse management system isn't positively contributing to your bottom line, then you need to rethink and restructure that system.
APS Fulfillment, Inc. is a Miami-based specialist in e-commerce product fulfillment, direct-mail marketing, and product warehousing. We're stored, sorted, and delivered products of all shapes and sizes for all kinds of companies, and we are more than prepared for the exciting challenges waiting in the new year. Contact us by phone at 954-582-7450 or by email at info@apsfulfillment.com for more ways third-party warehousing and fulfillment services can support and grow your business.