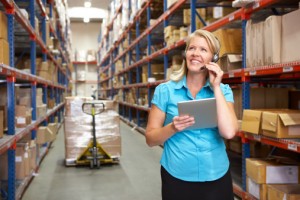 It seems straightforward enough: Process and deliver an order to your customers on time and with no damage to the product. Unfortunately, order fulfillment is not that simple. Getting a product from point A to point B involves many stages, at many levels. It also involves groups of people who need to coordinate amongst each other if there's any hope of having that package arrive on time, in one piece, with the proper documentation.
The good news is there are ways to better manage this process. The key is to have a system in place that accounts for every step of the fulfillment journey; from the moment the product is ordered until delivery to the customer, and beyond that if there are any refunds or other issues. Though it certainly isn't easy, implementing a practical system to optimize order fulfillment is very possible. Here are some points to help get your business started.
Automation, Even for B2B Customers
Technology is created for two reasons: to help reduce the occurrences of human error and to make processes more efficient. Both are possible within order fulfillment. Your business should be taking advantage of the tools made available by the proliferation of technology. The goal of automation is to cut out any manual steps to the order fulfillment process. That includes business-to-business (B2B) customers who typically like to deal with real people. But once you have secured them as clients, automating the ordering process saves valuable time and allows for tracking of information in a transparent and more accurate manner.
Communicate and Consolidate
Customers today are able to order your product through multiple channels: online, call centers, and mobile. They have come to demand and expect that each channel leads to them receiving their order on time. This is not possible if the communication from the initial order-to-fulfillment process is not properly organized so as to be transmitted quickly. This is why consolidating your system to a single point of access for everyone who is part of the fulfillment process is necessary. The more access points, the more chance for errors.
Inventory Management
This is crucial. Very few things will turn a customer off from a business than not having their order fulfilled right and on time. And with the competitive nature of business today, along with the number of alternatives available to consumers, you don't get many chances to get it right. That means real-time inventory must be synchronized with whatever order management system you have in place. This gives your business the best chance to handle orders and manage returns without delaying delivery time to your customer.
These three actions alone will go a long way to helping increase the effectiveness and efficiency of your order fulfillment process. But if your business doesn't have the capacity or experience to implement a proper system, partnering with a third-party logistics (3PL) company is the best way to ensure your fulfillment process is operating at the level you need to compete in your market.
Visit the APS Fulfillment, Inc. web site to learn how we can help.